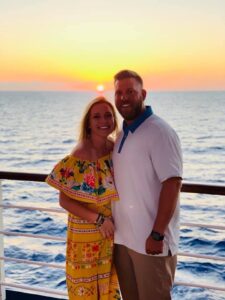 Happy summer 2019 from Henagan Team Dentistry! It's been a very long winter, but we're excited to finally have some beautiful weather and long, warm days. Summer is the perfect time to have adventures and get outdoors. It is also the time of new beginnings, and this is a great opportunity to welcome Dr. Abigail Henagan-Daly to Henagan Team Dentistry. We'd like to spotlight her as a new member of our New Iberia office.
Dr. Abigail Henagan-Daly graduated from dental school in May and will begin to work under her father, Donald Henagan, for the practice. Even after all of her hard work, she says, "reality is surreal for me at this moment!" We're absolutely excited to see her hard work pay off!
With June being National Fruit and Veggies Month, we were interested to hear some of her favorites. "Strawberries and pineapples… Shockingly, I like Brussels sprouts!" What are some of your favorite fruits and veggies? Let us know on our Facebook page!
Everyone from Henagan Team Dentistry wishes you a warm, safe, and enjoyable summer! We'd also like to extend another special congratulations to Dr. Abigail Henagan-Daly for her welcoming into the practice. We can't wait to see you at your next appointment! Maybe Dr. Henagan-Daly will be the one greeting you.